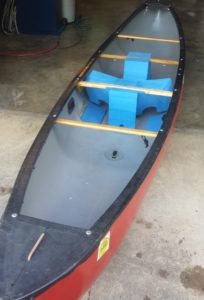 $40.00/hr plus materials
Ridge Spirit Outfitting offers installation services for customers who can get their boats to and from our shop in Chattanooga, TN.  We will remove the old outfitting from your hull to the best of our abilities and install your new Ridge Spirit Outfitting saddle, battery kit, and/or pump kit.
Some saddle installations require new airbag lacing.  When new lacing is required, we try to replicate the original lacing pattern as close as possible.  We use black 550 paracord (a nylon kernmantle rope with a 7-strand core) exclusively for all lacing.  If re-lacing is required, some additional holes may be drilled in the hull to facilitate tying off the lacing.  Our lacing is done in a manner that allows you to unlace and re-lace as required.
All installation jobs are subject to our storage fees if not picked up within 30 days of completion.  Click here for more details.