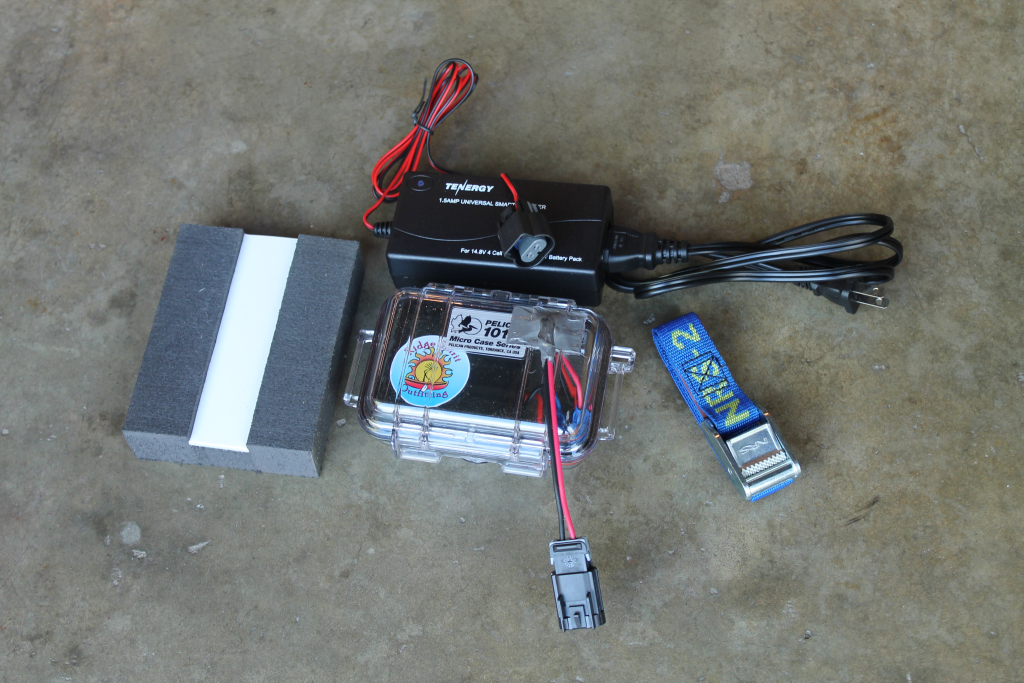 The Ridge Spirit Outfitting LION Battery Kit is designed to work with our Single Pump Kit1 to provide reliable power that lasts longer and pumps harder than other batteries.  Inside the waterproof case is a lithium ion2 battery pack, which is lighter and smaller than other batteries of similar capacity. Besides being light, the LION Battery won't slow your pump down as it discharges.
Installation instructions can be found here. See the price list for individual component pricing.
Here is a testimonial from one of our satisfied customers:
"I just got back from 21 days in the Grand Canyon.  I canoed 5 days and over 75 miles, and I did not need to charge the battery for my pump at all!  I have the single pump kit and LION battery kit.  I borrowed a spare LION battery from a friend but ended up not needing it…I love my Ridge Spirit Outfitting pump kit and LION battery, and I'm sure that I could have gone a few more days without it needing to be charged again!"
– Blake Burks, November 2018
Components / Features / Specifications
| Component | Part No | Quantity |
| --- | --- | --- |
| LION Battery | B-2G | 1 |
| LION Charger | CH-2G | 1 |
| Cam Strap, 2 ft | ST-2 | 1 |
| Battery Mount | MNT | 1 |
Installed Weight:  1 lb 8 oz
Battery Capacity:  4,400 mAh
Battery/Charger Connectors:  2G
Charger Input:  100-240 Vac / 50-60 Hz
---
In February 2018 we stopped using 2W connectors  – read more about the change here.  If your previously purchased RSO products have 2W connectors, please contact us  about updating them for compatibility with our current line of products.
---
1 The Ridge Spirit Outfitting LION Battery Kit is designed to work with the Ridge Spirit Outfitting Single Pump Kit.  Ridge Spirit Outfitting cannot guarantee compatibility of the LION Battery Kit with other kits, components, or multiple pump installations.  Please contact us if you have compatibility questions.
2 Lithium Ion is one of the most successful and safe battery chemistries available thanks to the built-in safety features of most packs, including those supplied by Ridge Spirit Outfitting (RSO).  However, modifying the battery pack and/or defeating any of the safety features can potentially lead to a thermal runaway, causing the battery pack to explode and/or vent flames/hot gases.  NEVER modify the battery pack.  NEVER reverse-charge, reverse-connect, or short-circuit the battery pack.  ONLY use the charger supplied by RSO, as this charger was designed to work specifically with our battery pack.  NEVER charge your RSO battery pack in ambient conditions below 32°F.  NEVER charge your RSO battery pack unattended.  ALWAYS remove the battery pack from the boat and place on a non-flammable surface when charging.  Stop using the battery pack if it expands or if the temperature of the pack exceeds 160°F.  The customer / user is fully responsible for the result of using the battery pack.  For more information and further reading on Lithium Ion safety, we highly recommend reading this article.